ALPHACOOL PLUS, up to 136 kW, chilled water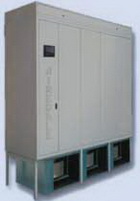 The new AlphaCool PLUS encompasses 2 models that offer increased cooling capacities up to 136kW, both units incorporating a dual housing construction that offers significant advantages in environments where raised floors are installed. The dual housing construction optimises interior space by utilising an enhanced surface area coil. This coil maximises air flow and heat transfer thereby significantly increasing total cooling capacity.
ALPHACOOL, 8-100 kW DX, Chilled Water & Glycol Free Cooling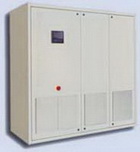 Airedale has developed a new generation of AlphaCool Close Control air conditioning units featuring new AireTronix controls technology. The range features 72 models with nominal cooling capacities ranging from 8kW to 100kW, available in both DX and chilled water versions. Energy saving glycol free-cooling is now available on the larger Downflow models within the range, benefiting from enhanced energy efficiency and further reduced running costs.
ECOTEL OUTDOOR, 5-19 kW DX & Free Cooling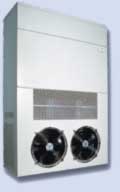 The Outdoor unit has been designed for applications where floor space is unavailable, utilising a 'clip-on' mounting that is quick and easy to install. Due to it's external placement particular attention has been made to security with vandal proof fixings employed on all external service panels and the added security of integrally punched grilles and low profile fan mountings.