Evaporative coolers
Evaporative coolers use with total success the natural technique of cooling with water evaporation.
In the following scheme we explain the system in an easy way using a theoretical example: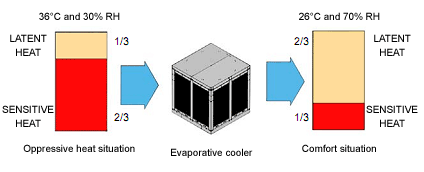 Evaporative cooling consists of reducing the heat we perceive (SENSITIVE HEAT) and increasing the heat we do not perceive (LATENT HEAT). As many be seen, the SENSITIVE HEAT has been reduced to the half with respect to its initial value, thus providing a sensation comfort.

A given airflow at 36°C and 30% relative humidity is circulated at low speed through a pad with a contribution of drinking water. The filtered air in the pad decreases its temperature to 26°C and the humidity degree increases to 70% of relative humidity. Then, this air is thrown to the place to be air-conditioned.